Interventional procedures remain one of the highest sources of occupational dose within the medical sector and recent advances in minimally invasive procedures have meant both an increase in the complexity and number of such interventional procedures.

This webinar video introduced technology that integrates electronic staff dosimeters into accessible databases that also include patient dose thus providing a rich source of data with which to optimise performance. It discussed both the technology fundamentals along with some of the challenges of this technology. It then discussed applications in interventional cardiology including staff feedback reports [to increase staff safety culture via education], comparisons with passive dosimeters and the holy grail of eliminating most passive dosimeters.

Educational aims:
•    To understand the technology involved and the uncertainties in the data
•    To gain an awareness of the advantages of this unique data set, via example applications
•    To gain an insight into possible future roles for electronic personal monitoring
 
Speakers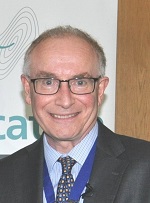 Mr Andy Rogers
Lead Interventional MPE, Nottingham University Hospitals NHS Trust 

1 CPD credit
Watch the video and complete the online self-reflection form. Go to "My events" to download your certificate. You must login to watch the video and receive CPD.

This webinar is in association with Philips Healthcare.
Duration:60 mins
Speaker info
Andy Rogers
Andy Rogers was President of the BIR for the period 2016-18 and is a fellow of the Institute. He was Chair of the BIR's Radiation Safety Special Interest Group (SIG) for many years before joining Council as the Vice President for External Affairs. He continues to play a strong and proactive role within the BIR, contributing to its Annual Congress and other affairs.
Andy is currently the Lead Interventional MPE at Nottingham University Hospitals NHS Trust and also chairs the UK working group investigating how best to set DRLs in interventional procedures. He was recently on an international standards organisation IEC working group to represent the UK in a project looking at the use of dose data held in digital imaging modalities along with being a member of an ICRP working group that has published a report on Diagnostic Reference Levels. He is also a full member of the IEC Maintenance Team for interventional x-ray equipment.