From the BIR's 2020 event 'Relaunching a lung cancer screening service in the new normal'  from Siemens in partnership with Cobalt.

0.0
Watch the video and complete the online self-reflection form. Go to "My events" to download your certificate. You must login to watch the video and receive CPD.
 
Duration:14 mins
Speaker info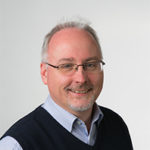 Professor Richard Booton
Professor Richard Booton has been a a Consultant Respiratory Physician in the North West Lung Centre for 11 years and Clinical Director for Lung Cancer and Thoracic Surgery at Wythenshawe Hospital since 2018. He is an honorary chair in Respiratory Medicine at The University of Manchester. Richard graduated from The University of Leeds and completed higher specialist training in the North West followed by a fellowship in thoracic oncology at The Christie Hospital and Paterson Institute for Cancer Research with Professor Nick Thatcher receiving a PhD in 2006. He is the Programme Director for the Award winning RAPID programme and Manchester Lung Health Check/ Lung cancer screening programme. My clinical research interests include clinical care in thoracic oncology, advanced bronchoscopy and lung cancer screening. He is a member of the MesoTRAP Trial Steering Group and Principal Investigator (Manchester) for EARL and ELUSIVE multicentre studies, Co-investigator for Yorkshire Lung Screening Trial and Co-chair YLST Biomarker Subgroup. Richard has published over 70 peer-reviewed publications. He has additional affiliations/memberships with the British Thoracic Oncology Group, the Council of Regents, the Communications Committee for the International Association for the Study of Lung Cancer, the Clinical Advisory Group of the National Lung Cancer Audit, the NHSE Expert Advisory Group on Lung Cancer Screening and the NHSE National Delivery Group for Lung Health Checks.